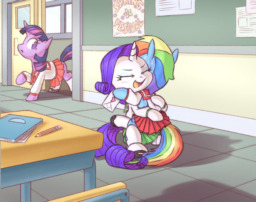 Source
Today is the day that Dash-kun will reveal her feelings towards Rarity-san. Will she accept her confession?
The Spring Festival is upon Ekishī High, ponies are either preparing for the festival to show off they're clubs, or getting ready to spend the event with they're friends or partners. Rainbow Dash is one of the many that is preparing to spend the day with somepony... somepony very special. Now would be a perfect time, but will Dash talk herself out of it? Or will today be the day that love blossoms for this rainbow-maned pegasus?
Note: This is kind of a submission for the RarityDash Writing Contest, but I'm also doing this since I got a bit of an idea with one of the art prompts you can use for the contest(the image). Anyways, Hope you like it!
Added Note: This is technically my first shipping fic, so go easy on me.
Update: The Contest results came in, and the story was placed Second Place with a grade B. First place goes to the fic "Love, And Other Felonies". Honestly thought I wouldn't be good enough for the top five, but I will not let the second place title go to my head.
Chapters (1)