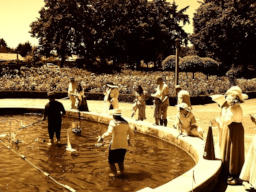 Kitzumi Nova the fox pony, is trapped in the past, and the only way home is to travel to another dimension. It's a world of wizards and witches, and because Princess Celestia wants to make sure she gets some magical education while she is there, Miss Nova will be attending Hogwarts starting first year in 1903 and finishing first year in 1992. Will the world of Harry Potter survive?
The explanation for why she's going to be in first year so long can be found in Nightmare Moon's Daughter if you don't want to read the entire Kitzumi's adventures through the looking glass. or wait till I cover the reason in this book.
The time of 1903 isn't canon from the lore of Harry Potter, but based on the original build date of the type of locomotive most often seen being depicted as the engine for the Hogwarts express.
The CMC arrive in the eleventh chapter. Nova rescues a troll from the crusaders from a troll, and then...
There will be drama, there will be shenanigans, and there will be breakage of forth walls.
Chapters (31)