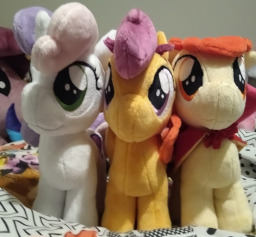 In 1980 Sybil Trelawney made a prophecy that would alter the Magical world forever. It is well known that this could have applied to either Harry Potter or Neville Longbottom, but what if there was another child that could have fulfilled the prophecy to, a girl? Unwilling to take chances over what Snape heard, Voldemort orders for her elimination as well. Chaos though, has other plans.
Ten years later and it is time for Scoti Alaw Prewett or Scootaloo to return to the dimension of her birth and attend her magical schooling alongside her two best friends. Chaos ensues.
A CMC Goes to Hogwarts story that focuses on their time at the school with little pieces of the overall goings on in the background. Plushies in pic owned by me and made by the wonderful Sewpoke who can be found on Twitter.
From Chapter 29 (Quidditch 4) to chapter 33 (Scootaloo and a Dragon Too) edited by rich-online.
Chapters (45)