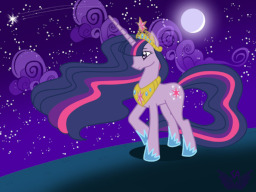 Princess Twilight Sparkle meets Twilight Sparkle.
Using an old spell she had tried many eons ago, Twilight sparkle goes off to meet her past self, to know with great certainty that she had lived a good life. And maybe warn herself of the many mistakes she had done.
Disclaimer: this is a War for Equestria group story. Link is found below for more information on the universe and fanon.
Chapters (2)