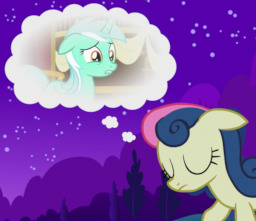 Bon Bon just told Lyra about her former identity as Sweetie Drops. Before the wedding began, Lyra seemed to be okay with it, but Bon Bon knew her marefriend better than that. She had hurt Lyra, and she had a lot of explaining to do once they got home.
Now she has to prepare to tell her marefriend the rest of the story as she faces the fear that Lyra may never forgive her.
---
Yep, it's another "what happened after the events of 'Slice of Life'" tale. I wrote this to bring that episode into alignment with my Lyra and Bon Bon Series. If you haven't read My True Self, then this story isn't going to mean anything to you.
Chapters (1)