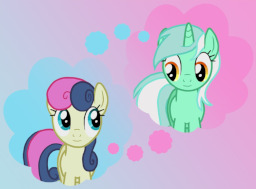 This is the story of Bon Bon. How she grew up and what she did before she moved to Ponyville.
This is also the story of how Bon Bon met Lyra Heartstrings. And how they quickly became the best of friends.
Bon Bon and Lyra loved being best friends, but they both wished for more. If they only knew how the other truly felt…
---
This is a prequel to Lyra's Journey, although you don't need to read that story to enjoy this one. It largely expands on what little canon we've seen for these two characters.
For those who are perusing this story based on the tags: Note that the first three chapters are more accurately categorized as Drama and then Adventure. However, the last seven chapters are Romance/Slice of Life, which is why the story has been labeled as such.
Chapters (11)