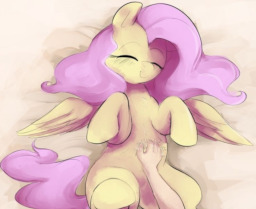 Anon is dragged into Equestria by the effects of a mysterious idol belonging to Discord. He is soon discovered by Princess Celestia, Twilight, and Fluttershy, without any memory of how to speak or write clearly, or his past. Fluttershy then volunteers to watch over Anon until the princesses decide on further action. What follows is Anon's attempts at making a new life for himself alongside Fluttershy and her friends.
---
Featured as of 11/13/2017- Holy moly! A hearty thank-you to everyone who has joined me for the story so far, and a warm welcome to everyone who has yet to hop on board. Enjoy.
Edit as of 2022: Marked as cancelled as a courtesy to anyone who finds this. Between grad school and depression, I lost what direction I had to keep up with the story as intended. There isn't any intention to keep working on it, but I can't bring myself to delete it outright. Please take it as you will, and accept my sincerest apologies that it took so long to make clear.
Chapters (14)