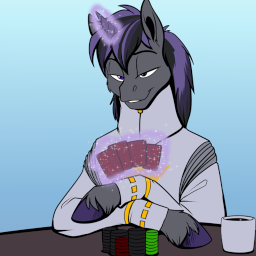 Purple Point: the foul-mouthed, poker playing (and winning) Assistant Chief Engineer of the Cosmic Lotus. Eidetic memory, triple doctorate, and holder of secrets. Does anyone really know him, other than how good he is in repairing systems so that they never to be fixed again? Well, not really. Few know just how determined he can be. Also, don't EVER cross him...
Based on my OC in Goldfur's Cosmic Lotus story. Hats off to you, Goldfur, if I was wearing one...
This story closely parallels Goldfur's Cosmic Lotus. To fully understand this story, read Cosmic Lotus as well and spot where the two stories intertwine. You'll like it!
Featured Story 17 May 2018. wowsers...
Chapters (26)