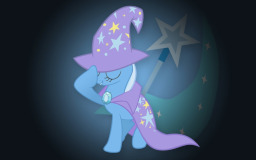 Source
Trixie gets stuck in time, now she has to figure out how to escape.
This is my 50 Follower Special (because that's going to be around the number of loops she goes through that you will read about in great detail)!!!
Warning: Contains Trilight Shipping.
Includes OC/Other Character(s) [For Tags]
(This story is also technically Displaced).
Honorable Mentions: [these are Followers that stand out for from the rest even though I love all of you equally enough (some more than others though) and also have the same amount of respect too as well.]
MLPmatthewl419: For editing some of my stuff/things/stories. Thanks a whole lot. (#56)
RuinQueenofOblivion: #54.
Jongoji245: My very first follower.
Kikio3000: My second follower.
Foxhelm: My fifth follower and a recurring commenter.
SilverKaizoku: #20 and the first person to offer having their story edited by me directly to me through PM.
Bad Dragon: #21 and yet another recurring commenter.
Note Of A Ghost: #31.
BloodyKhan: #34.
The Only Brony: #36.
Sparkletop Rainbows: #49.
Equestriasservant: #50
Chapters (10)