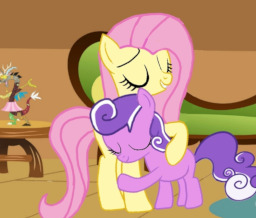 This story is a sequel to Where's My Daddy?
---
Ever since Screwball learned that her father may never get out of his stone prison, she never felt whole. Chaos was really the only thing she was good at, until she met Fluttershy, who showed the young chaotic filly a different side to the powers within herself.
Finally feeling normal and safe with Fluttershy and her friends, it all goes wrong when Celestia hears about Screwball being reformed. She now wants Fluttershy to reform Discord as well. Now Screwball has to choose between the power of Chaos or the power of Friendship.
Edited by, TheDizzyDan
Featured: 28/5/2019
Chapters (2)