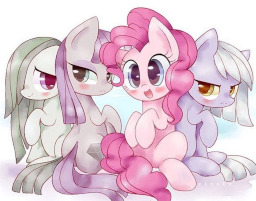 Spike and Pinkie have been spending more time together, it doesn't help the party pony who been trying to stop being on one way street. Since she loves him and knows he wouldn't return her feelings, That changes when he get bought to the rock farm to meet her sisters.
Until she comes up with the best idea, The Choosing Rock will be working for the long weekend and their parent are off in Canterlot for the Rock Awards to see what with piece of stone and rocks will win. Pinkie brings Spike to help, seeing him hitting off with her sisters well, Pinkie decides to have them all dating him in a nice harem.
Spike is in for a long weekend.
Now Edited by: Base Anonymous
Chapters (4)