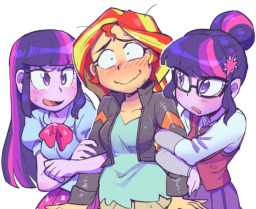 This story is a sequel to Sunlight in the Light
---
For the first time ever, Sunset Shimmer is stuck in middle gray. She's taken by one Twilight, and another is working to change that. Which means, she's going to have to choose. Meanwhile, the two Twilight's stories unfold...
Update 1/12/18: I released an epilogue for the story. After a while I felt the story wasn't finished quite how I wanted it to be. It's short and sweet.
Rated 'Teen' for the same reason all the others were, I guess.
Chapters (2)