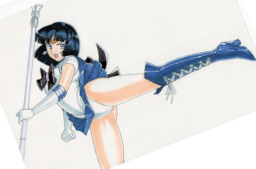 The final battle with the dreaded Old One, Pharaoh 90, ends with the monster dead and Sailor Saturn gone.
But that is not the end of her adventures as she is thrown from her own universe into another, one that is full of technicolor ponies.
Now in Equestria, the Solider of Death and Rebirth becomes one of Equestria's defenders. Yet something may have followed her, something that may end up destroying her new home.
---
AU of Sailor Moon S
Chapters (1)