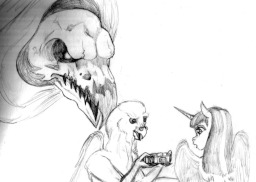 Source
Twilight Sparkle, Spike and Starlight Glimmer take a vacation to a sea side town in The Griffin Kingdoms. It is there that they meet a old Griffon who has made the discovery of the century.
Only problem is he doesn't know how to put it back.
---
Based on the story A Warning to the Curious by the famed Ghost Story writer M.R. James.
---
Cover art by Purple Patch
Chapters (1)