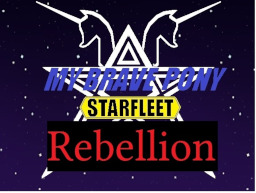 It all began with a Pony starting a break out.
That is the story that is well known. But behind the scenes is the story of rebellion, of plots with in plots. the real story of the events of My Brave Pony Starfleet Magic Season VI as Gale 'Windy Bag' Sternbreeze builds up her forces for the Great Equestrian Rebellion. Her plan was not one of a insane pony, but of a pony who wanted what all beings want: FREEDOM!
Secrets, Lies, Corruption and Rebellion. This is the true story of the events.
Chapters (1)