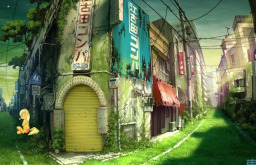 Source
Where would you want to be during the zombie apocalypse? Which persons would be the most important to you? How far would you go to protect them?
To Frank, all those questions have no meaning. Caught in the end of the world during a trip to Tokyo, he finds himself stuck in a foreign land, with no means to communicate with his fellow survival, and no hope of finding his family ever again.
But destiny knows how to be ironic, so maybe, just maybe, a young orange pony, away from her home dimension, might be the one to understand him.
---
Written for Obselescence's "The More Most Dangerous Game" contest, using the prompt "My Little Dashie".
Chapters (1)