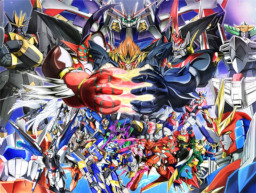 Source
He who fights monsters should see to it that he himself does not become a monster.
But, sometimes, the only way to fight monsters is to create monsters of our own and show them, we're not defenseless.
Evil has multiple faces and the Mane Six have defeated many of them. But what will happen when the new one is way beyond they can handle?
When a new threat come to Equestria, menacing to destroy everything at their path, the world will change. War will arise and the once peaceful ponies will have to embrace a new way.
Invaders think they can conquer Equestria? Just who the hell do they think the ponies are?!
(Massive Multiplayer Crossover with Transformers, Mazinger Z, Getter Robo, Gundam Wing and Power Rangers)
Chapters (2)