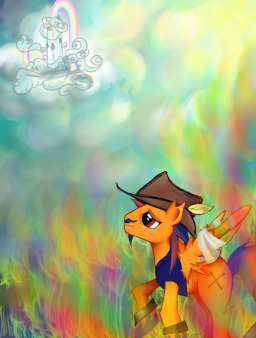 This world, its so different. The colors, they're so bright, so vivid in my mind. Where am I? WHAT am I? And dear god, how did I get here? "....." Who said that? Oh please, someone give me answers!
How would you feel if you woke up in a new place, a new body, a new world, with no idea of how you got there? What's more, you wake up in a bed lying next to your favorite pony. Your mind is jumbled, your thoughts unclear, and you act only on colorful instinct. Well, that is what happened to me. And now, I'm here in Ponyville, with no clue as to what I am or what I need to do. How do I get home, and what will the other ponies think of a stallion like me? Oh yeah, and how am I gonna survive if Rainbow Dash finds me?
Please leave a like/dislike if you've read. I'd appreciate it.
Chapters (19)