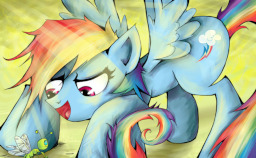 There are several ponies out there whose true stories need to be told. A few ponies, that some others never even knew existed. This is an sequel of sorts to Colors of A New World. It will include a variety of stories from the ponies after Drumroll left.
Read this:
-For those who haven't read Colors, this might come off as a bit of a spoiler...plus really confusing. Read and interpret at your own risk.
-These stories are all in the same universe, yes.
-Last note. This is not labeled human like Colors is because that fact is unimportant here and thus irrelevant.
Chapters (2)