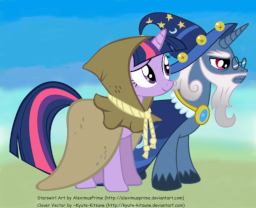 Twilight's parents have arranged a marriage between her and a pony named Star Swirl. When Twilight finds out, she is not happy.
However, before she has time to dwell on it, disaster strikes.
A powerful unicorn named Sombra has begun taking over the country, destroying entire villages and towns as mere game. According to the breathless messenger, the nearest town, only two days travel, is already under his control. All mages who fought him have failed, even with their combined strength.
Burdened with this knowledge, Star Swirl immediately prepares for a long journey, one that he and Twilight will share. Legend tells of an enchanted book hidden deep within the mountain ranges, said to hold spells more powerful than that of ten skilled sorcerers. He believes it may be the only way to defeat Sombra before it's too late.
Throughout their mission, they will face many challenges and trials. They will make mistakes, learn new skills, and prepare for coming storm on their return. Together, they endure everything life has to throw at them.
Twilight begins warming up to Star Swirl, even enjoying his company.
And then one day, the realization hits her.
She is slowly falling in love with him.
(This story is set in the same time era of when the three pony tribes lived apart. But before the events that created 'hearts warming eve'.)
(Also, I know the cover photo makes him look old, but in this story he's really about the same age as Twilight.)
Chapters (1)