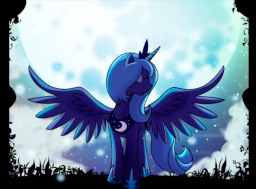 A collection of poems telling about Luna's life before Nightmare Moon, and after.
They are expected to be anywhere from 50-500 words each, and will be written as I think of them. Story and/or character tags may change as I write new poems.
These don't necessarily have to be read in order, each chapter is its own poem/story, and ill probably have about 10 different styles of poetry. So chances are, you'll hate some, and possibly love others.
(Some of the poems are about the night in general, and don't mention Luna. It'll put this "~" little mark on them.")
Cover is from CSImadmax on deviantart.
Chapters (7)