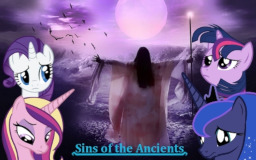 Prophecies; Twilight Sparkle has come to hate them with a passion. Caught unawares by an ancient prophecy, Twilight awakens on a strange land surrounded by creatures she's never heard about before. Worse, she is no longer in her own body, and none of her magic works. Having to learn a new form of magic, Twilight resolves to do whatever it takes to return home, and to her own body.
She'll just have to avoid assassins, creatures out of nightmares and from Tartarus itself, while dealing with a group of violent companions, if she is to have any hope of succeeding.
Meanwhile, Equestria is threatened by a form of evil it's not prepared to confront. Rarity is haunted by the creature, and if it should get its claws on her no pony, not even Celestia herself, may be able to save her, or Equestria.
Two worlds touched by the hubris and arrogance of a dead civilization will tremble. The Sins of the Ancients have, and will again, lead to destruction, and perhaps, salvation.
Chapters (20)