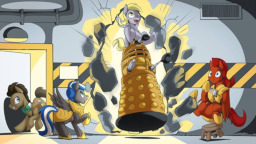 Inspired by the fanart Dalek
By mysticalpha
With some unexpected guests, his trusty TARDIS, a faithful companion and his witts, the Doctor find himself in a precarious situation on board a ship above the kingdom of Equestria. It's what onboard this ship that makes the Doctor realise that it's a race against time to save the kingdom of Equestria before the ship arrives.
Can he save Equestria from this alien threat?
First crossover experiment for me, but I hope you enjoy it.
Chapters (1)