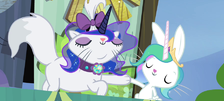 Source
This story is a sequel to The Accident
---
Angel is quite content with things, post-wedding. He has his beautiful bride, some much-loved kittens and a relatively hassle-free life.
That changes when some unexpected family pops up in his life, allowing Opal to see an unknown and very unexpected side of his family. They're after a favor, a very big favor, so they can purposefully enjoy all the things that came to Angel and Opal purely by accident.
No, this is not a crossover. But the names were just too good not to use. I've had this idea kicking around for a while. It was helped to fruition by, of course, my writing that actually is in Zootopia. But this is all pony. Sort of. Looks like being angry has brought a little mojo back.
Chapters (1)