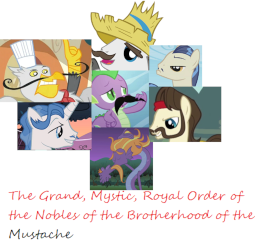 This story is a sequel to Dames of the Tea Table
---
August. Earnest. Occult. World-spanning. All-Powerful. Grandly conspiratorial. All these words and more do not in any way describe the Brotherhood.
Formed from the interest of mustachioed folks who wanted a place to ditch their ordinary lives for gossip, laughter, snacks and poker out in the wilds of the Everfree, the brotherhood is the antithesis of every dour, dark, dire and dull secret society that ever has or ever will exist. No hoof-wringing plots of political or business manipulation, no intent to stamp their will on the face of the earth, no need for treasure, converts or brainwashed servants.
Just some mustaches, some cards, and the fellows that combine them all.
These are the stories of the lives of the members, and how they act when they are separated from their order, collecting the stories that become the next heartily cheered tale in the middle of Spit in the Ocean.
Spike, Steven Magnet, Horte Cuisine, Magnum Belle, Fancy Pants, Ace, and Gustave LeGrand.
All hail the Brotherhood, and pass the fondue.
Chapters (1)