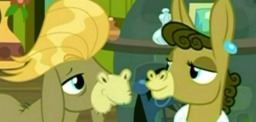 [Note: Takes place after the events in "Tanks for the Memories" and before "Slice of Life."]
[Note: Updated as of 9/4/17]
[Now featured on Equestria Daily: https://www.equestriadaily.com/2017/09/story-winter-wisdom.html]
The winter weather doesn't agree with Cranky, and this year it came much too quickly for him. Then the love of his life, Matilda, makes him promise to give the winter a chance. Cranky will do anything for Matilda, and what he discovers may just surprise him.
Chapters (1)