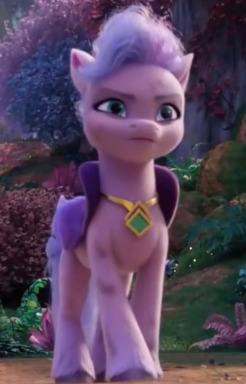 Source
Times are changing for the ponies. Three years after their magic was restored and harmony established between the three races, they meet in Maretime Bay to finalize their reunification as the Equestrian Kingdom under Princess Sunny Starscout. Ponies gather in the seaside city with aims of celebrating a new era of peace among the ponies.
Yet there remains a lone voice unenthused with the transition.
Queen Haven rides into Maretime Bay with a chip on her shoulder and a crown on her head, the latter of which she will not leave the city wearing. Her subjects called for the agreement to be signed and for her to step down as Queen. She knows she wasn't a perfect ruler, but why does she have to give up everything? Why does everypony else get the happy ending while she gets swept into the ashcan of history? To make matters worse, she's stuck with an overeager unicorn who wants to be her friend.
But upon her arrival, these questions fall to the wayside as an attack is commenced. Crazed creatures attack every pony they see, rounding them up for their mysterious master.
What they didn't expect is that Queen Haven isn't just a queen on her last legs. She's a mare with skills honed through a turbulent time of history. And both the invaders and the unicorn are about to learn that just because Haven may be more prone to parties and paparazzi doesn't mean she's harmless...
---
Written for the Season 10 Bingo Contest.
Based on this prompt (not really a spoiler, as the prompt is rather vague).
Chapters (3)