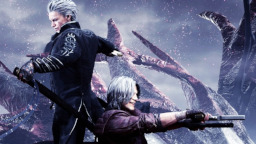 Four months have passed since the Sons of Sparda were successful in severing the roots of the Qlipoth in the underworld and turned their attention towards each other to see who is superior.
However, a moments rest turns into a new opportunity for the pair of them. A chance to lay waste to an army of demons that have invaded a world separate from the human world.
Before they can seal the deal, the brothers are torn away from each other. One is trapped in a duel and the other is sent to Equestria.
Now, wandering alone, Vergil chooses to honour his summoners wishes and put a stop to the demon horde that infests Equestria.
All the while, Dante stands alone against the General of the Army.
Will they succeed? Will Dante survive? Will Equestria be free?
Extra Information
~ Set four months after end of Devil May Cry 5
~ Set after the Season 3 Premiere
~ Entry for the Devil May Cry Writing Contest

Chapters (5)