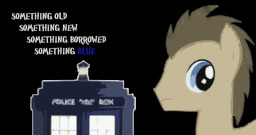 Running, it's all he's ever done.
Running from his problems, enemies, memories... this is where The Doctor makes his final stand...
Oddly enough, it isn't the fields of Trenzalor.
How The Doctor ended up in Equestria and found that he no longer needed to look for a peaceful paradise.
Because he's found it.
Chapters (11)