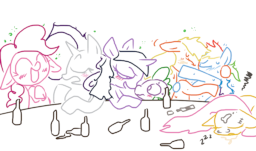 Source
The erogenous 3rd edition. It's 30 percent longer, 300 percent better edited, 3000 percent more ethically dubious, and still narrated by Steven Fry.
It's that special time of the month again for the Elements of Harmony; the time when they get together for a Truth or Dare game of a more questionably pure nature. From long kept secrets, to reflecting on parties they can barely remember, their three years of friendship have changed them. For better or worse, they were still deciding on that.
This game will be different. Most likely for the worse, but that's what drinking before the sun sets can do. Or maybe them being hornier than usual. Or secretly planning each others sex lives. Or falling in love with each other. Or all four. Most likely all four.
Twilight wants to go out on her first date, but will alcohol and the raunchy advice of her friends help? Rainbow badly wishes to sedate her loins, or maybe she's looking for something more? What exactly, is Rarity planning for this night? Should they really add weed to the equation?
The Elements all have desires they haven't quite realized they have had, and a day long exchange of sex jokes and tension might lead to events that are out of their control. It was in their control once.
Our innocent little ponies seem to have sucked in too much Seth Rogen, but that's okay.
Right?...
It's Archer with ponies.
Chapters (24)