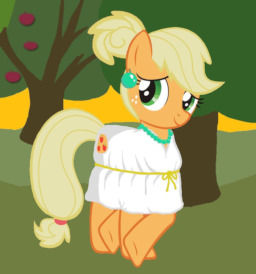 It's Parents' Day in Ponyville, and Applejack is hosting it's first ever annual festival! She jumps at the opportunity to meet all of her best friends' parents. However, as bad histories and old grudges surface and threaten to ruin the occasion, Applejack must restore harmony and save the day. In the process, she may come to terms with her relationship with her own parents...
Author's Note to Readers:
First off, thank you for viewing this page. As a fellow fan of the show My Little Pony: Friendship is Magic, I've developed a true adoration for these characters, and felt inspired to write a story about how they, in my imagination, came to be who they are. Therefore, I chose to center the story around the girls' relationships with their parents, for in more ways than one, we are all the products of what our parents or guardians have made us. As the old saying goes, "The apple doesn't fall far from the tree."
To that end, please bear in mind that this is very much a character-driven drama, so there will be no action/adventure or anything of the sort here. Also know that I chose to depict the parent-child dynamic as very real, so expect controversial parental issues to be featured.
Make of this what you will. To those who continue reading, enjoy! C:
Chapters (15)