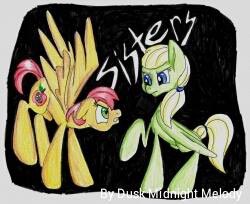 This story is a sequel to Accidents
---
Thirty years have passed.
Applejack and Fluttershy's twin fillies are grown mares. For twenty five years they have hated each other.
Apple Honey is the captain of the Manehatten Sharks, and has lead her team to victory after victory.
Cloud Blossom lives in Canterlot, her natural skill with sculpting has secured her name in Equestria's art galleries.
Both mares are rich and famous in their respective fields. Neither has seen the other in fifteen years. Both sacrificed a lot to get where they are today. Maybe too much.
When tragedy strikes the family, can the sisters finally put aside their differences, or do some wounds run too deep to heal?
contains AppleShy and TwiDash
thanks to Zervon Tora & WildfireRose for their awesome pre-reading skills and ideas
Chapters (8)