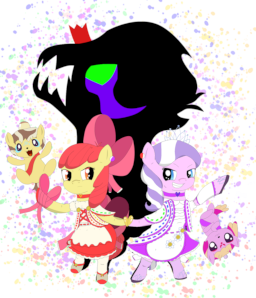 Apple Bloom wished for her Cutie Mark. Instead, she'll become a hero! A magical talking compact mirror offers her the chance to save Equestria from the return of King Sombra. Unfortunately, in order to use the powers of the mirror, Apple Bloom must work together with Diamond Tiara.
Together, Apple Bloom and Diamond Tiara must set aside their differences to save Equestria from looming shadows, the Crystal Empire from it's own painful past, and especially their classmates from their own sorrows? They'll have to so they can transform into Filly Cure!
With appreciation to The Ferret who helped conceptualized this, and also Your Antagonist and Watts Man who helped edit this.
Chapters (3)