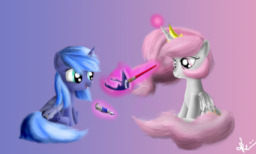 Source
When Twilight goes to show Princess Celestia and Luna her original spell, what happens when one of smallest of things is off by a few strokes of a brush?
Why, Time is turned back for the two Princesses. And Twilight, being the royal student and by ancient and outdated laws dug up by a book keeper, has to help the now young Princesses rule while they wait for the spell to wear off.
Or will it be too late, and a Certain upstart Prince get his hoof in the door, and take over canterlot?
Chapters (1)