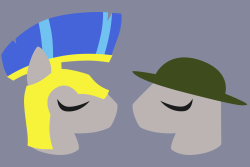 Source
The creations of a Spirit of Chaos are, by their very nature, rarely stable. When he creates a persistent portal between universes in the Everfree Forest, however, his goal is a slightly longer-term chaos.
This story follows the events that precipitate from the exploration of that portal, the battles fought in the universe beyond, and a certain purple unicorn's inquiries into what Friendship is for ponies with no magic.
This is a story of conflict, between Equestria and its strange alternate, between ponies of two very different worlds.
This is the story of Discord's Gate.
Rated T for exploding cockatrices and other things dieing, along with some well-intentioned extremists and critical communication failures.
A crossover of sorts with the Hell's Gate series by David Weber
AU tag added due to Hell's Gate bleeding over into Equestria in addition to vice-versa.
Character tags will be edited as subsequent chapters are written.
Image credit to this person, who is really awesome and also has a tumblr
Do note that I own neither My Little Pony: Friendship is Magic, nor the Hell's Gate series. Said properties belong to Hasbro and Dan Weber through Baen Books, respectively. Imitation is the most sincere form of flattery, and this is a most sincere flattery of them both with no compensation towards myself involved beyond the writing experience and fuzzy-wuzzys I'm gaining from posting it here.
In short, this is a fan-fiction work, a parody or whatever-label-is-necessary-to-keep-my-sorry-jacksey-from-getting-sued.
Chapters (10)