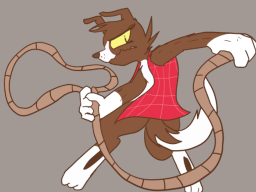 Source
A bipedal canine of similar structure to the creatures in "A Dog and Pony Show" finds herself lost in a swamp.
Naturally, she can't remember a thing about how she got there. Just that her name is Winona, the hat she found belongs to a good friend, and she should probably return it.
The world being what it is, her journey will not be that simple.
Slightly spoilery, but this story grew from the desire to have someone refer to Celestia as "Frith". Sometimes I love where the spiders in my head take me.
Story Quality brought to you by Amneiger the Editor and Chautauquan the Prereader.
Due credit also to Klondike, the scholar and gentleperson who let me use their art for the cover.
Chapters (4)