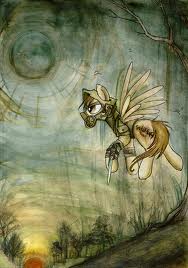 6:28 am. The blinding light appeared near Magic Power Plant in Drakhia. The distance of 30 km. became separated, danger zone. Soldiers which returned from expeditions were saying about mutants and anomalies.Two years after the disaster bandits,exsoldiers,anarchists and adventurers are coming to the Zone searching for money or escaping the law. One of the newcomers is Spike. Forced to leave wife in Ponyville, he's searching for Celestia's troopers lost in the Zone. He discovers something what can destroy whole equestria.
Based on S.T.A.L.K.E.R games.
I do not own "STALKER" series.
Chapters (3)