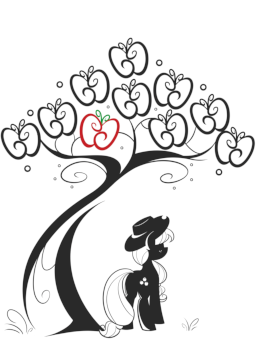 Source
Sweet Apple Acres starts to produce a new breed of apple that will change the life of everypony forever.
A Pony In Hay was going to be part of the serie of shorts entitled "The Applejack Zone" under the concept of horror stories around a camp fire. But its length and ending stile were better for a stand alone story.
This tries to be a mix of Junji Ito horror stories inside the original flavor of FiM.
Proofreading courtesy by
It's really helpful, not just about grammar and punctuation, but to find out, if you can deliver the feeling in the story you were intending.
Warning: Contains short scenes of gore.
Rated Teen because these scenes could disappoint mature readers.
Yeah, I rather scare younger people.
the lack of horror tag is a problem again.
Image thanks to BambooDog: One In The Bunch
Visit his amazing gallery.
Finally edited thanks to the good Lifter who took some of his time to do me the favor of proofread it.
Chapters (7)