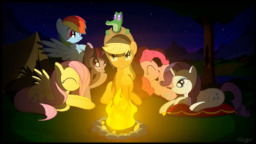 Source
What the can says.
Horror - mystery, auto conclusive stories.
Pinkie pie did die in the first story? Don't worry; Resent button at the end of each chapter.
Yay! For Status Quo.
Camp fire pony stories, and no better pony to tell them than the one from the countryside.
No horror tag? Does Celestia know this?
I consider dead ponies a little gory, but I won't be pulling out their guts, so if you like plain psychological horror, unsolved mysteries, and you can stand some blood on the floor, feel free to stay. It won't be too messy.
Chapters (2)