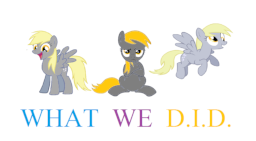 Derpy isn't just a clumsy Pegasus. She's more than just one, simple, pony.
Derpy has D.I.D. (Dissociative Identity Disorder). But this is a special case. Most D.I.D. ponies are unaware of what their other personality does. Derpy and her other personalities are.
This one pony; with three different minds; saved Equestria.
But some things cannot be avoided. Especially bad ones.
This is what she did...
(Set at any time between Discord's capture and his "reformation". Preread by Literature. Rated Teen and dark for psychological horror.)
Chapters (3)