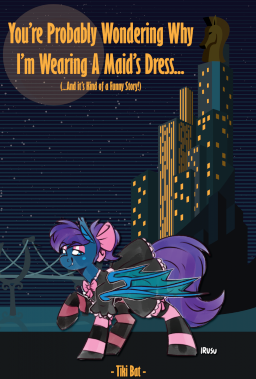 You ever just have one of those kind of nerve wracking conversations where you have to explain your job to some other pony that might not understand it?
Yeah, that's what I went through when I met one of my good friends, and believe me, it's never easy to explain why me, a stallion, is wearing a maid's dress to work, especially to a new friend that you're trying to make a good first impression with.
---
Just a silly one shot inspired by a picture drawn by lRUSU, which was in turn inspired by something I made in response to my passion project picking up comments more regularly. I told someone I'd draw my OC wearing a maid's dress if it ever picked up regular comments, and lo and behold it managed to do that shortly after as if the universe had willed it into existence.
Chapters (10)