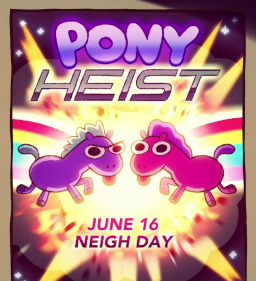 Source
What do you do on a bad day? Do you read a book? Do you listen to music and calm down? What about robbing a bank?
No, of course you wouldn't do that. But then again, you aren't a mad scientist pegasus with a history of hair-brained schemes; nor do you have a cooky unicorn friend that wants to be an internet star.
Now the real question is, how bad must the day be in order to push you to that point?
My entry in GMBlackjack's Depth in Innocence contest.
This is the debut of my first official work edited by the brilliant SoloBrony, who has graciously agreed to edit for me on future projects as well. (expect a sudden quality spike on GHT2 whenever I get around to continuing that one)
Thanks for reading!
Chapters (1)