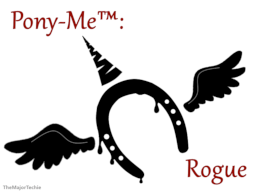 A pseudo-sequel to Pony-Me.
Please note that this story is an AU that splits off of the main Pony-Me™ canon, and thus isn't a true sequel.
This story is no longer canon to the universe of Pony-Me.
---
Twilight Sparkle isn't exactly herself anymore... or at least, wasn't exactly herself anymore.
The past two weeks had seen her torn from Equestria, thrust into a new world with a new body she didn't even have control over, and worst of all, stripped of her own free will... at least, until now.
---
Lisa Garnet isn't exactly having a good time.
The past two weeks have sent her spiraling into her past, from rediscovering old friends, to finding the man who'd raised her from childhood. The worst of it? She doesn't even have a physical body anymore.
---
An AU of the original Pony-Me, splitting off after the chapter "Split Lives". Join the Discord if you'd like to discuss the story!
NOTE: With the main story finally over and this particular AU no longer being viable, I will now be recategorizing this story from semi-permanent hiatus to cancelled. Sorry.
Chapters (5)