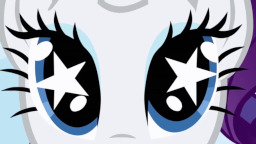 After Rarity rescued you from the Everfree Forest and nursed you back to health, you have served loyally as her assistant. Humans in Equestria seem to be a far more common thing that you'd first thought, and life has seemed pretty good albeit also pretty boring. However, Rarity comes in one day to tell you that she's signed up for a same-sex ballroom dance that she cannot miss, but her human partner has skipped out at the last moment. Thus, she has turned to you.
Although you're not really that keen on being dressed up and made out like a woman, you can't say "no" to a date with someone you love as much as Rarity. You hope that cross-dressing will at least be fun, and maybe Rarity will reward your open-mindedness later on, as the party breaks up.
This is rated 'teen' for 'not yet'. Thanks for reading. Please be warned that I wrote this with my brains partly turned off.
Chapters (2)