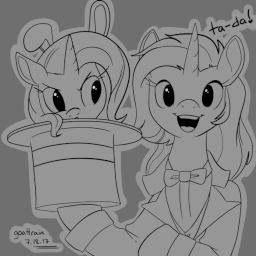 In this alternate universe Twilight Sparkle is known as Dazzling Sparkle, having left the apprenticeship of Princess Celestia to pursue a career as an illusionist, using her magic to create wondrous, artistic illusions.
Due to a scheduling error Sparkle is set to share the stage with her rival in magical displays, Trixie the so called "Great and Powerful". As they try to out do one another with the bigger and better magic tricks can the two rivals learn to work together?
Probably not.
Art by Goattrain which I commissioned to I have permission to use it.
Chapters (1)