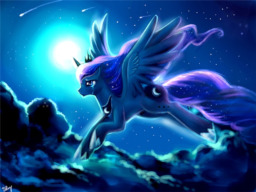 After Luna's return, Celestia begins to notice Luna's down spiral into depression. Each day the lunar princess isolates herself into her room at night and cries until slumber catches up to her. This worries her sister further. She thought everything was good between them now. What changed?
One day the sorrowful cries of the princess stop... But a new problem arises... Luna now acts like a dragon hiding its treasure. Shes hasty, secretive and defensive. This causes suspicion and confusion in the elder sister.
What is Luna hiding from her? And how long before Luna's little secret gets out?
Chapters (4)