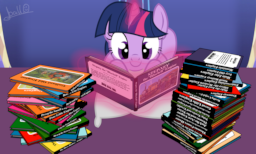 Source
The steam engine, for its size, is the most powerful vehicle on land. And the engines of the NWR are part of the power behind the docks, industries and branchlines that make up the world-renowned Island of Sodor.
And Ponies, for their size, are some of the most powerful creatures known to man. And 6 special citizens of Ponyville are the power behind the magic and friendship that make up the peaceful land of Equestria.
With these groups joined, fun shall be had and lessons shall be learned. These are the Equestrian Railway Tales
Note: Set during season 4 and will mention events of said season and some of the Equestria Girls Films and will include The Rev. W. Awdry's stories. Christopher's may be added if reviews are positive enough.
Co-Written by Nova Blaze
Magi Tail Welkin- Official Timeline Manager
Cover art owned by Tidmouthmilk12 on Deviantart
Chapters (18)