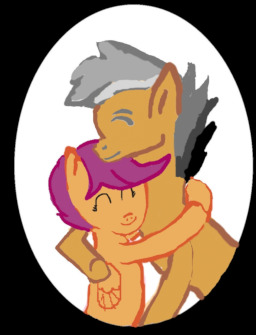 Note. This will spoil the ending of Father Daughter Day a link has been provided in the description, if you care read that one first and then come back.
Quibble Pants was reading the newest batch of books sent to him to critique, while his daughter was out doing things with her friends. The day was shaping up to be a good one. Until Rumble nearly breaks the door down. The frantic colt tells Quibble, his daughter has hurt herself. Hurt herself bad enough for Apple Bloom to run to the hospital.
The day was going great Scootaloo had just invented a new scooter trick and her three bestest friends in the whole wide world were going to be the first ones to see it. The next thing she knows her wing is broken and she's laying in a hospital bed. She also discovers one more thing, one very important thing, She can't remember something unequivocally important about her mother.
Other stories in universe:
Dad, coltfriend. Coltfriend Dad
Father Daughter Day
Sick Day
Double Date
A Father's Lullaby
Scootaloo's Coltfriend
Rainbow's Crash
Art by HerrEsel
Chapters (1)