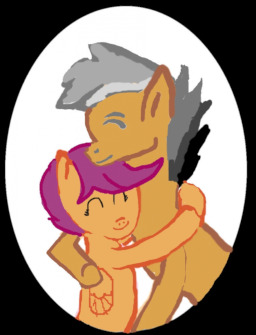 This will spoil Father Daughter Day, link provided for those of you who care.
Rumble takes Scooctaloo to the park, Sugar cube corner and the Lake, and sees his relationship with the orange filly become more than just friends. He finally finds the courage to ask the dreaded question if they could be colt/filly friends.
Scootaloo has just spent one of the best days of her life with her friend Rumble. Somethings on his mind though, and she's just not sure what. She wishes he'd hurry up and spill the beans.
Rainbow Dash has been seeing Quibble regularly for the past nine months, but the relationship hasn't really gone anywhere despite her dropping major hints. So she gets Rumble to take Scootaloo out so that she can finally confront him with it.
The day Quibble dreaded has arrived his little filly is going on a date away from the house. Before he can follow the two of them however, Rainbow Dash stops him at the door and quickly explains their having a date. And she has a question that will shake his world to the core.
Stories in the same universe:
Father Daughter Day
Dad coltfriend Coltfriend Dad
Hospitals and Honeysuckles
Sick Day
A Father's Lullaby
Scootaloo's Coltfriend
Rainbow's Crash
Chapters (1)