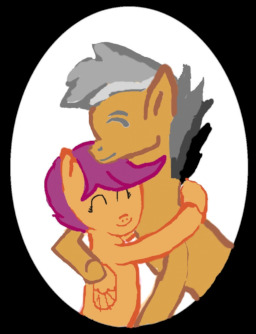 Scootaloo x Rumble story.
Quibble Pants has finally convinced his daughter to invite her colt friend over for a play date, though he was sure to put it in more awesome context. His reasons, Rumble is the first colt his daughter has had a crush on, and he wants to see if this could be more. He really hopes its not.
Scootaloo has invited her friend who is a colt over to her house for dinner. and R&R. Now if only her dad would stop acting weird and Rumble would actually relax this date could go as planned. Wait did she just say DATE!!!
Stories in same universe
Father Daughter Day
Hospitals and Honeysuckles
Sick Day
Double Date
A Father's Lullaby
Scootaloo's Coltfriend
Rainbow's Crash
Art by HerrEsel
Chapters (1)